Lately I've become something of an Early Music Deadhead, checking the Gotham Early Music Society newsletter and seeing all the pre-Classical concerts I can around town, especially the free ones. One such happened the other night at the beautiful, grottoed Church of Notre Dame, in Morningside Heights in upper Manhattan, where some fourteen members of the vocal group Pomerium sang a program of six Franco-Flemish Déplorations.
What are Déplorations, you ask? Heck if I knew. Fortunately Alyssa DeSocio was on hand to explain. She's a student of musicology who told us that back in the day — the Renaissance, that is — French/Flemish court composers would write pieces lamenting (hence déploration, deploring) the death of an older composer who had mentored or inspired them. The result was some exceptionally beautiful and interesting choral music.
The program ranged from the 14th to the 16th centuries, and included chansons (with words in the French vernacular), motets (in Latin), and motet-chansons (which combined the two). The music referenced medieval Gregorian chant but used polyphony, dissonant suspensions, and all the latest compositional developments of the time. The choral director helpfully pointed out a number of these features by having the chorus sing them in isolation before performing the whole piece.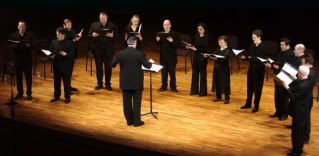 The lyrics were poems written for the particular occasions. They mixed Christian and Classical allusions: Jesus, of course, but also Jove, Apollo, and Atropos, the Fate in charge of dispensing death. They also mentioned the deceased composer by name, glowingly praising his divinely inspired musical prowess and sometimes other qualities as well.
…Atropos, terrible satrap,
Has caught your Ockeghem in her trap,
The true treasurer of music and master,
Learned, handsome in appearance
and not at all stout…
Put on the clothes of mourning,
Josquin, Pierrson, Brumel, Compère,
And weep great tears from your eyes…
Josquin des Prez, one of the composers mentioned in the next-to-last line above, became the greatest of his time, and the program concluded with three Déplorations written in his honor.
Often part of the fascination of Early Music concerts is the proliferation of old-fashioned instruments that you don't normally see or hear anymore, instruments with names like sackbut, theorbo, and shawm, not to mention my favorites, the viol family. But this concert made purely vocal music from the Renaissance not just beautiful, but almost as interesting as a consort of curious antiques.