31 March 2020 – Thank you to everyone who trooped out to our album release concert at Arlene's Grocery last month. We were booked to return to Arlene's on April 27 with Meghan Hayes and Kevin Daniel. Of course that's going to be rescheduled, please check back for the new date.
Meanwhile, check out David's new video for the title track of our 2012 album I'm Not the Road, a dizzying snapshot of NYC in the time of the coronavirus:
1 February 2020 – OUR FIRST REVIEW of OUT THE DOOR: Tons of thanks to New York Music Daily for the first full-length review of Out the Door. (What – you don't have your copy of our brand new album yet? Easily remedied!) A "wildly lyrical new album… Spot-on, frequently hilarious lyrical tunesmithing… ['Forbidden' is the] best song of 2020 so far!" Read the full review.
28 January 2020 – Our new full-length album Out the Door is out! It's available in CD and digital formats at CD Baby now, with fourteen brand-new tracks featuring the full band plus the acoustic single "Mass Extinction No. 6" (check out the amazing stop-motion video here). Also available digitally at Apple and Amazon (physical CDs at Amazon soon), and streaming at Spotify.
In the NYC area? Come celebrate with us at our album release show at Arlene's Grocery on January 20 at 9 PM. Advance tickets available here, or check out the Facebook event page.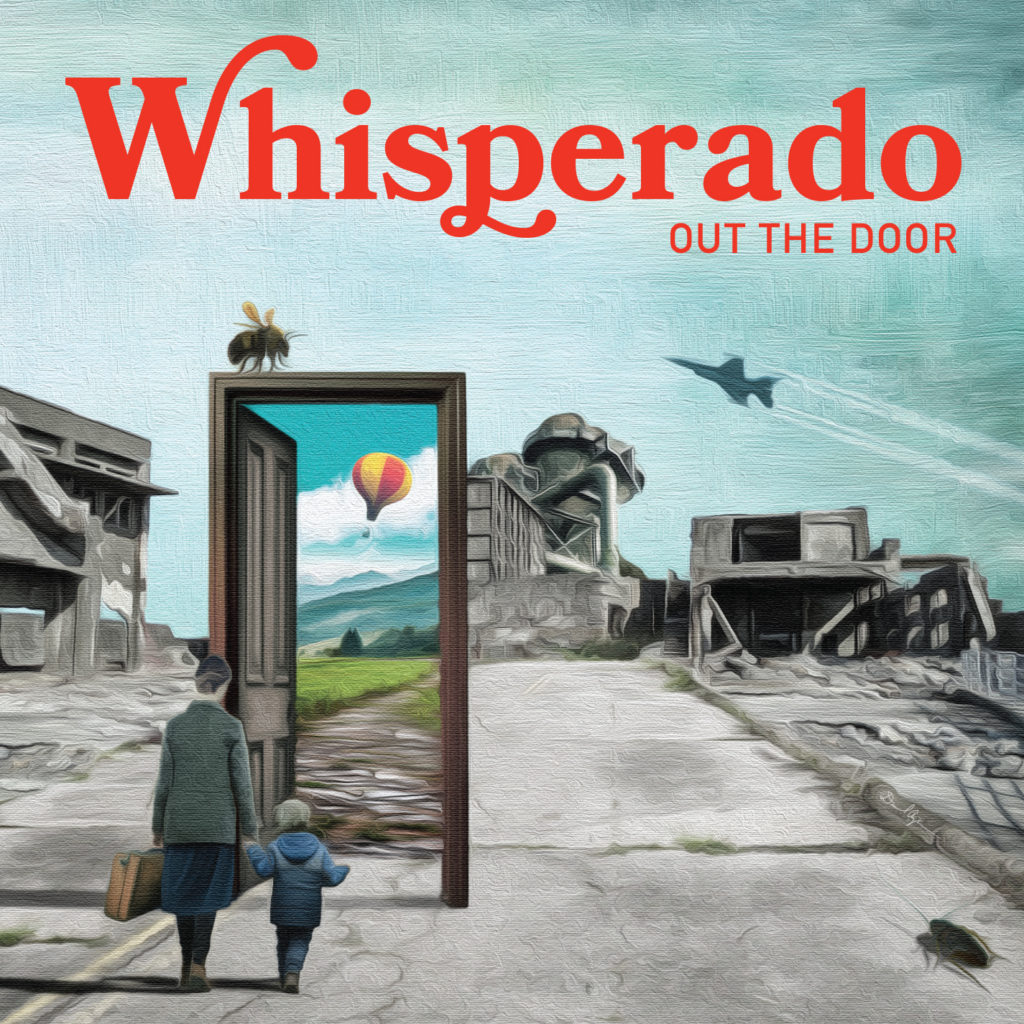 It's out! Our new EP, Bang One Out, hits the virtual streets today.
Better yet, buy it at CD Baby!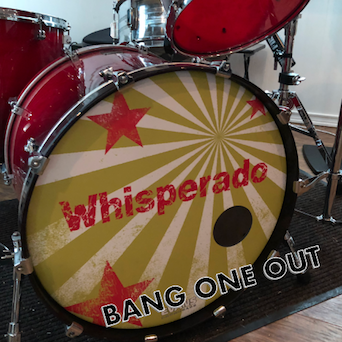 Presenting: our new lyric video, which premiered on 3 January 2019 at Blogcritics.
"Bang One Out" carries an antiwar and anti-hate message that sustains the impassioned topicality of "Mass Extinction No. 6." The new lyric video whips around the world, taking in war memorials, political rallies, the post-election Women's March, and more, with contrasting images of people and animals at peace with their surroundings.
"Bang One Out" is the first track from our upcoming EP, to be followed by a full-length album later in 2019. Stay tuned for news on lots more new music from Whisperado! And click here to see the new video.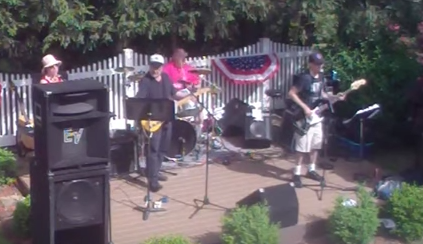 PAST GIGS:
– ARLENE'S GROCERY: Sunday, February 12, 2017. One set at 8 PM. $8 cover. 95 Stanton St., Manhattan.
– MIKE RISKO MUSIC SCHOOL: Sunday, February 26, 2017. Jon and Elisa acoustic duo with songs of Elisa Peimer and Whisperado. One set at 7 PM. No cover, all ages. 144 Croton Avenue, Ossining NY.
– PARKSIDE LOUNGE: Thursday, December 29, 2016. One set at 8 PM. No cover, two-drink minimum. 317 East Houston St., Manhattan.
– BRANDED SALOON: Saturday, January 21, 2017. One set at 6:45 PM. $10 cover. Good pub food. 603 Vanderbilt Ave., Prospect Heights, Brooklyn.
May 25, 2016: NEW VIDEO! Daniel Azarian's stunning new video for our new song "Mass Extinction No. 6" is out. You remember Dan, he directed the amazing "Teenage Poster Girl" video a few years ago. You can scroll down to see that one, but first, check out this amazing new piece of video magic.
April 14, 2016: NEW VIDEO! Watch for the forthcoming Whisperado video by ace videographer Daniel Azarian, coming soon.
Meanwhile, be sure to like us on Facebook. Because that's how we roll.
—
Thanks to everyone who came to our CD release party and made it such a success. If you missed it, be sure to pick up a copy of the new CD, I'm Not the Road, in physical or digital form at CD Baby.
EXCITING VIDEO NEWS: Our video for "Teenage Popstar Girl," directed by Daniel Azarian, won Best International Music Video at the 2013 London Independent Film Festival.
Whisperado is Patrick Nielsen Hayden (guitar, vocals), Jon Sobel (vocals, bass, principal songwriter), David Mills (drums), and Elisa Peimer (keyboards, vocals) playing roots-rock and Americana songs patched together from rock, country, folk, and silliness. We've been likened to Dire Straits, the Blasters, the Long Ryders, Greg Brown, John Prine…even REM and John Lee Hooker. According to Time Out New York, "Whisperado plays straight-up rootsy rock that sounds straight outta Memphis."
Our video for "Teenage Popstar Girl" (over 5,000 views on YouTube to date!) just got a nice little write-up on the Wise Woman Tradition website: "Whisperado's quirky, upbeat song is brought to life as a satiric tale in which singers and celebrities are pre-packaged and mass-marketed like plastic dolls." True that. If you haven't seen this groundbreaking video, directed by Daniel Azarian, here it is:
BUY OUR CD! Our new (and first full-length) CD, I'm Not the Road, is available now.
• Purchase it online at CD Baby or iTunes.
• REVIEWS: Click here to read the first review of our new 14-song disc, where Piper Hoffman says, "This is tap-your-foot, laugh-out-loud music" with "a heaping serving of smart, witty lyrics and catchy hooks." And click here for a brand new review by Cory Doctorow at boingboing.net, who says "Whisperado have a kind of rootsy, country feel, and the lyrics and vocals are somewhere somewhere in the sweet spot between Ry Cooder and Jimmy Buffet, with a lot of humor and a little pathos…the whole album's a treat."
• LYRICS: Click here for the lyrics.
CONTACT US by email at: music at whisperado dot com
A REVIEW OF OUR SUMMERTIME GOVERNOR'S ISLAND SHOW
Whisperado lays down "a heavy-bottomed eclectic rock beat…well-written original tunes that crackle with lyrical goodness…and some tasty guitar riffs." – "Eclectic Company," Jambalaya News
UPCOMING GIGS
– July 23, 2012, 8 PM: We're playing at Spike Hill, 184-186 Bedford Avenue, Williamsburg, Brooklyn. No cover.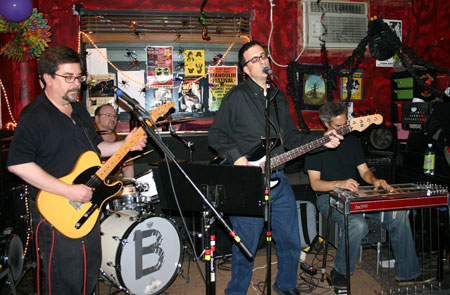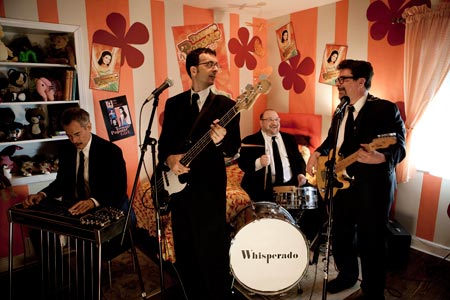 Above: a photo from the video shoot for "Teenage Popstar Girl," directed by Daniel Azarian. Photo by Milton Kam.
| | |
| --- | --- |
| In addition, you can (and should!) still pick up our first EP, Some Other Place, in physical (CD) or digital (iTunes) form. This helps us put food on our tables and strings on our instruments. You can also hear some tracks at this Myspace page and view videos on YouTube. | |
| While you're at it, download a free copy of Jon's acoustic solo EP, Four Finger John. Featuring John Scarpulla on guitar, it includes the title track (a tribute to John Entwistle of The Who); a duet version of Hand-Me-Down with Elisa Peimer; and the first-ever recording of my original holiday fave, Don't You Know That It's Christmas. It's a free download, but you can also preview the tracks if you wish. | |
And then come see us play. You're guaranteed a good time. Come on, look how nice we look! (Top two color photos above by Phil Kawesch. Photo below by Velma Bowen.)
To contact us: email music at whisperado dot com.