Saturday we visited Wave Hill, a gorgeous public garden and cultural center near the Hudson River in Riverdale, The Bronx.
Flowering trees were just starting to bloom and the air was full of scents. It's a sublimely beautiful place in spring.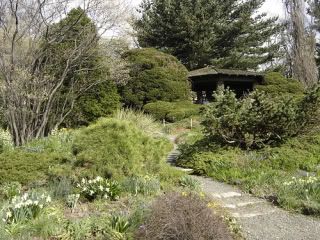 Then yesterday night I experienced a musical equivalent. I'd seen the viol quartet Parthenia and its music and poetry programs before, but this time they were in a proper concert hall, the Dweck Auditorium at the Brooklyn Public Library with its warm acoustics.
The audience was enraptured by the tones of the viols, by the actor Paul Hecht reading poems by Donne and Shakespeare, and by the voice of mezzo-soprano soloist Jacqueline Horner-Kwiatek, better known as a member of Anonymous 4.
Mr. Hecht's readings made me want to go back to college and major in English all over again, but this time with him by my side to read all those poems aloud. Hearing great poetry in the trained, sonorous voice of an intelligent (and funny) stage actor gives one a whole new appreciation of the works.
Meanwhile, thanks partly to Parthenia, I've contracted a case of viol envy — I'd like to learn to play one of those ancient things. The viols are a family of fretted stringed instruments that predate the "modern" violin, viola, cello, and double bass. The sound is softer, less like a human voice heard through the air and more like what I imagine a mother's voice sounds like to a fetus in the womb, soothing and humming.
They played works by Dowland, Byrd, and other composers roughly contemporary with Donne and Shakespeare. The second half of the program was all about aging and dying. Yet I left the concert walking very slowly and calmly, as if I were balancing a large object on my head, not wishing to tilt in any direction or elevate my heartrate past meditation speed.
Luckily I arrived home to a rehearsal of angelic voices preparing for my friend Meg Braun's CD release concert. With Amy Soucy and Elisa Peimer harmonizing, the three sounded like a whole choir in the living room. That's the magic of well-crafted counterpoint: it makes the brain fill in parts that aren't there.
But before Meg's concert, in which I am also playing, Elisa and I will be back at Wave Hill. We're getting married there in less than two weeks. Holy crap.
Viol photo: Copyright © 2000–2009 The Metropolitan Museum of Art.