'80s rock, with its hair bands, codpieced lead singers, and rainbow-bright guitar heroes, was all about excess and pomp. It was hard to take seriously then; today it's experienced as gaudy kitsch. But as with all genres of pop music, catchy songs were what made bands like Journey, Poison, and Night Ranger popular in the first place, so these bands are as ripe for the Broadway treatment as popsters of any other era.
After successful runs in Los Angeles and off-Broadway, Rock of Ages has crash-landed at the Brooks Atkinson — noisy, flashy, and most of all, funny. The creators of the show smartly decided to play it entirely for laughs, and the result is an evening of pure escapist fun, exactly what a city weary of bad news needs.
The book, by Chris D'Arienzo, tells a story so self-consciously cliched it can't help bursting out of its boy-meets-girl envelope and turning on itself with in-jokes and outrageous mugging. Mitchell Jarvis, in a Jack Black-like turn, plays Lonny, a sound man at a rock club on the Sunset Strip who also functions as the narrator.
"I wanted to explore deep and thoughtful theater," he complains late in the proceedings, but instead was hired for a show with "poop jokes and Whitesnake songs."
When aspiring rock star Drew (Constantine Maroulis), the taller, masculine member of the show's star-crossed pair, denies having referred to ingenue Sherrie (Amy Spanger) as a mere "friend," Lonny pops out of a side doorway to remind him, "Actually, you did." The show is loaded with self-reference and toilet humor; there's really nothing going on beneath the music and dancing and horsing around. But the action and the fun never stop, and they're all we need. This show is pure visceral experience. What it's about is the music.
The cast sings extremely well, and the band is kickass. This was undoubtedly the first and only time I'll ever actually enjoy hearing Poison's "Every Rose Has Its Thorn."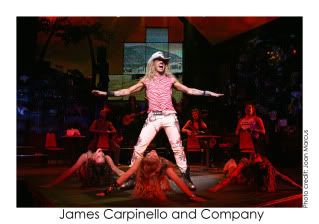 Never has REO Speedwagon's "Can't Fight This Feeling" been so perfectly apropos as here, dramatizing a new-found gay love. Vocally, the show's finest musical moment is a duet by Drew and Sherrie of Damn Yankees' "Can You Take Me High Enough."
But the biggest applause was for a showstopping number built around Pat Benatar's "Hit Me With Your Best Shot," sung by Wesley Taylor as Franz. Franz is the flouncy son of a German developer who wants to replace the Strip's trashy but vibrant clubs with sterile strip malls. Defying his humorless, fun-crushing dad, Franz represents — nothing, actually, except a breakout role for the delightful Mr. Taylor. There's no depth here. It is what it is: surface sheen, happy noise, and songs with pounding hooks that you just can't get out of your head. Need a break from it all? Hop in your Speedwagon and Journey across the river Styx to 47th Street.
Rock of Ages plays until the final countdown at the Brooks Atkinson Theatre, 256 W. 47 St., NYC.