One of the negatives of moving from Brooklyn to Manhattan is the serious reduction in opportunities to hang out at Freddy's, the best bar in the known universe. That was remedied the other night courtesy of my gig with the Kings County Blues Band at which an awesome time was had by all. Starting the musical festivities were The Walkers, pictured below, with a set of story songs that were also performance art pieces, with titles like "The Mayor's Boyfriend" and "The Devil is a Man." This is the kind of group you have to experience; simple hearing would not do the trick. It was only their second gig ever. Hope they have more.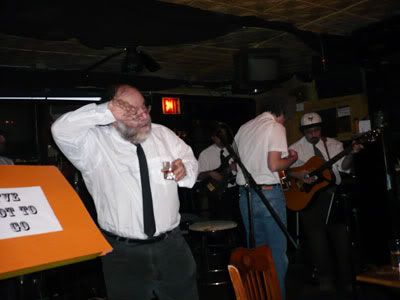 Now here's us – well, two of us anyway, Laura Stein and myself – with the KCBB. Below the photo is an MP3 from the show, of me singing Johnny Taylor's "Last Two Dollars." I can't do it like JT, of course, or like my old bandmate Michael Brewster from whom I learned the song, but I think it's not too bad for a Jewish kid from Long Island. Anyway, let no one say The Bagel and the Rat is not a hip, multimedia blog.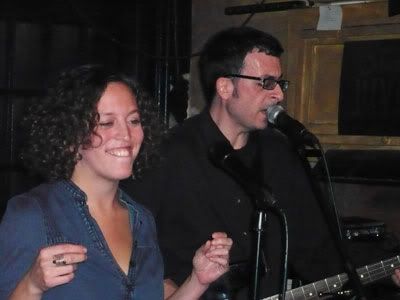 Oh, and of course: long live Freddy's, and down with Bruce Ratner and Atlantic Yards.
First photo by me, second photo by Elisa Peimer.